We chat with Monique to find out more about her role with the German-New Zealand Chamber of Commerce (GNZCC) and a favourite city: Berlin.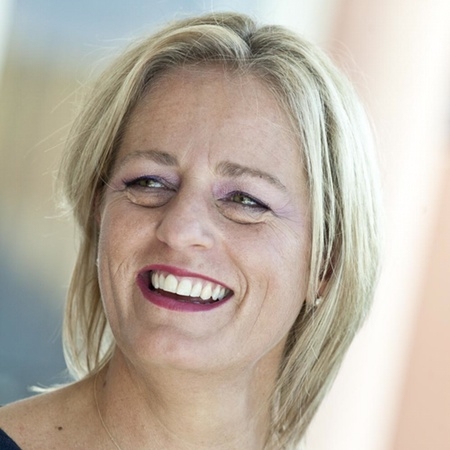 The things I love about my role ... It's sort of scary to think my 25th work anniversary with the German Chamber is already a couple of years ago! If that is anything to go by I must "love" my role – and I do! I am still learning new stuff every day and I am always thrilled to see companies' success as a result of something we have helped with.
I used to have more direct contact with members and clients but over the years, as the German Chamber has grown, I have had to encourage others in the team to take over the contact building. I guess you could describe my role now as more of a leadership role – I'm there to encourage my great team to come up with new ideas, deal with issues and generally take the GNZCC forward in this more digitally focused business world.
Can you expand further on the GNZCC and German Trade Fairs representation … The GNZCC is part of a very extensive German Chamber network consisting of 140 German Chambers Abroad in 92 countries and 79 German Chambers of Commerce & Industry in Germany with over 4 million members. As a bi-lateral chamber our role is to provide advice and support to both German and New Zealand companies and represent them where necessary. As such we also represent several German Trade Fair organisations, promoting their trade shows, assisting NZ importers choose the right trade show to source products at and guiding NZ exporters through the exhibiting process, to launch themselves on the world market.
The best business advice I have ever received … You are only as good as your team – so get the best people around you and let them shine too.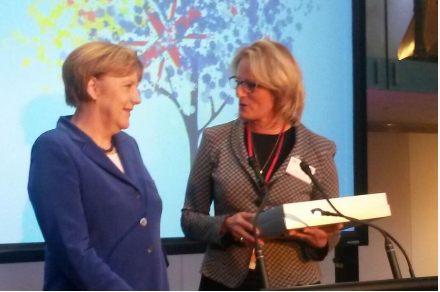 My proudest moment … Ah that is easy! Standing on a stage with Chancellor Angela Merkel in November 2014, a close second would be meeting German Federal President Walter Steinmeier in 2017.
My greatest strength is… Oh golly lets talk greatest skill! Morphing between being a German and a Kiwi – a lecturer once described me as a true hybrid!
And a weakness … Hmmm I can be a bit dominating at times….
Monique, you undertake lots of travel in your role – what is a highlight and a lowlight of longhaul travel ... The highlight of longhaul travel is getting to the other end, with no issues along the way, as quickly as possible.
The worst trip ever, had to be in September 20… I had been at Asia Fruit Logistica in Hong Kong, which was a full on 3-day trade show with about 1000sqm of NZ stands. I then had to continue on a 7-day tour around Germany, promoting doing business in NZ, starting in Berlin. I flew from Hong Kong via Istanbul to Berlin – well that was the plan. Unfortunately, the piano player in the wonderful Istanbul business lounge managed to send me off into a deep deep sleep resulting in me missing my flight to Berlin. Luckily, NZ passport holders can enter Turkey visa-free – so I could go out of customs, purchase an exorbitantly expensive 1 way ticket and go back into the airport without too much trouble. But that trip was riddled with nightmare scenarios – suitcase didn't make it to Berlin for 3 days and followed a day behind me for just about the entire trip, bus transport from Berlin airport to the city centre broke down, the night train I took from Berlin down south got diverted in the night due to the discovery of the an old war bomb, and the final straw was being taken off the Air NZ home bound flight after having just settled down with my glass of bubbles to be thoroughly searched – 20 minutes later I was allowed to re-board having now delayed the flight by 20 minutes. To this day I have no idea what that was all about! What a trip.
Your favourite airline/flight experience in the last 12 months …. I fly just about every airline because for me it is about time convenience – I just want to get to the other end quickly. That said I did have an amazing experience in January 2020, utilizing my upgrade voucher to first-class on Lufthansa from Frankfurt to Singapore. First class travel with LH is not just about the flight, it's the whole experience of their first-class terminal lounge and being whisked to the plane in a Porsche just before take-off, to then enjoy the luxury of a very slick LH service.
Unquestionably one of the coolest cities in the world, Berlin has a lot more to offer than bier and bratwurst. Monique, you know Berlin very well and as a frequent visitor, share a few insider tips:
Check whether your hotel has bikes – best way to get around if you have meetings in Berlin central and, if you have time, to see the sights. The train system is also very easy to use and very extensive so definitely the best method for getting to the trade fair grounds – and buy a 3-day pass, great value. I will never understand all those people standing in the taxi queue at the end of a long day at the trade fair grounds – by the time they have finally got a taxi I'm sitting in the bar, back at my hotel!
My favourite area of Berlin to stay ... Without a doubt, my favourite area is Gendarmenmarkt in Berlin Mitte. It is so close to everything and is full of lovely shops, cafes, and restaurants. The square comes into its own in summer but even in winter I really enjoy the area. True Berliners would probably dismiss me as a tourist and say other areas are more Berlin-like but I love the history of this area and as I vividly remember visiting Gendarmenmarkt when the wall was still up, it holds special memories for me.
A favourite hotel: I have two, the Westin Grand Berlin and Hotel Luc, Autograph Collection (formerly Sofitel Gendarmenmarkt). However, if the budget is tight I'll stay in MotelOne, close to where I need to be – very functional modern chain with lots of locations.
For a memorable lunch in Berlin I'd go to … Well it really depends – if I have Kiwis with me, who have never been in Berlin before, I would suggest the Kaefer Dachgarten Restaurant in the Reichtag – this combines a visit to Parliament, a walk in the glass dome looking down at the "hardworking" politicians and lunch in a great location – the food was, however, a bit disappointing last time I was there. And then there is the very famous Borchardt or you can't beat Restaurant Refugium, outdoors in Gendarmenmarket, on a nice summers day. On a winters day, combined with a spot of shopping there's always the 6th floor of KaDeWe – a food mecca.
And for a special dinner, I'd book … Grill Royal has amazing food and is great for people watching, not cheap though.
If I could only spend three days in Berlin, your must do and see activities: After having been asked so many times I finally wrote a Guide (attached for download) in 2016, which is still relevant today – the one thing I would add to it though is the Berlin Palace which has been rebuilt where it previously stood and opens later in 2020.
Do you have a favourite place for a little retail therapy? Berlin is a shopping mecca. Many rave about Friedrichstrasse and the new Berlin Mall but I'm still a fan of the department store KaDeWe, close to the Wittenberg Platz station for clothing and shoes and a bit to eat. Then I flit across the street to Uniqlo for those great essentials.
Monique, thanks so much for your time. I remember well, our first meeting more than 25 years ago and the many shared experiences since then on a wide variety of projects.
German-New Zealand Chamber of Commerce