Masquerade in the Alps - Hermitage, Aoraki-Mount Cook
Masquerade in the Alps at the Hermitage, Aoraki/Mount Cook will now be held on Saturday 26 March 2022 following postponement due to Covid-19 restrictions.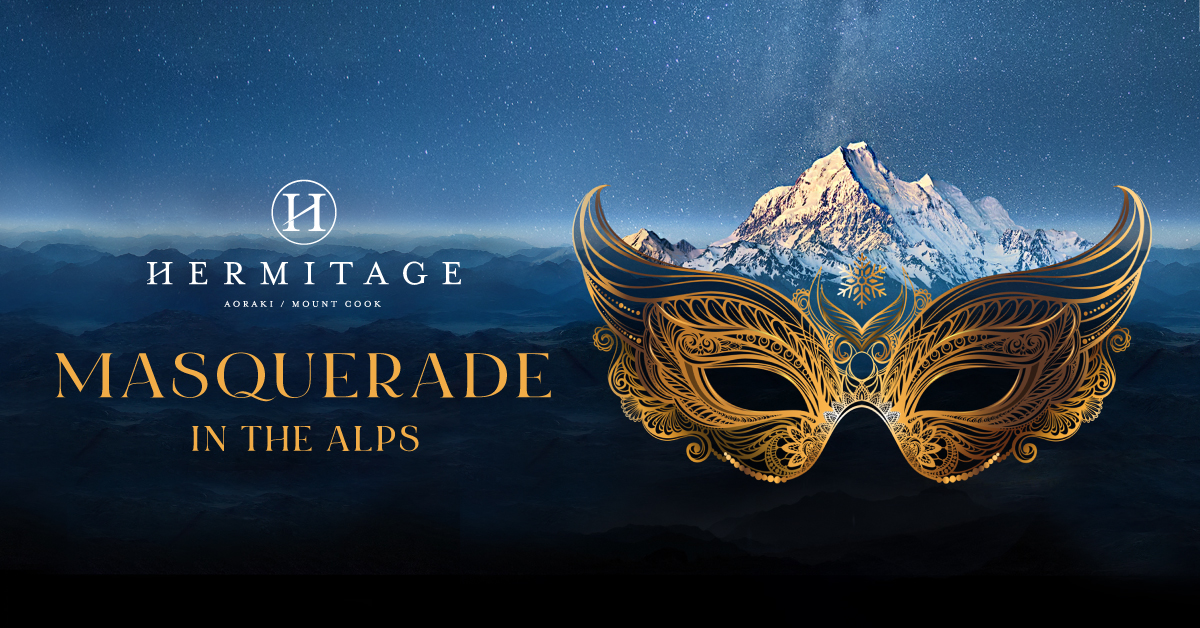 Enjoy a pre-dinner cocktail followed by a three-course dinner celebrating local flavours in the stunning Alpine Room, with beer and wine included.
After dinner, the party will move next door to the Panorama room where guests can dance the night away to popular classics from the live band.
Also included in this package is one nights' accommodation at the Hermitage, as well as buffet breakfast on Sunday morning.
Late summer is a wonderful time to visit this stunning area, with activities galore that are often off-limits during the winter months. and a perfect time to experience New Zealand's only glacial boat tour, hike the Hooker Valley Track, the country's most popular day walk, or hire a bike and explore the diverse tracks and breathtaking views of the Mackenzie region.
Tickets to this unique event are strictly limited, so get your friends together, plan your outfits, and why not make Masquerade in the Alps the highlight of your 2022 South Island road trip?
WHAT'S INCLUDED
One nights' accommodation at the Hermitage on Saturday 26 March 2022 in a standard room
Masquerade in the Alps party on Saturday 26 March 2022, including:

Pre-dinner cocktail
Three-course dinner
A three-hour beverage package including wine and beer (7pm to 10pm)
Live music from popular Queenstown band, LA Social

Buffet breakfast on Sunday 27 March 2022
$550 per person, twin share
$680 per person single
The package price includes a Standard room and is $550 per person twin share or $680 per person single occupancy.
Spoil yourself with a room upgrade:
Upgrade to a Superior room for an additional $15 per person, twin share.
Upgrade to a Premium for an additional $35 per person, twin share.
Event timing
3pm – Check-in opens
7pm – Pre-dinner cocktail and start of three-hour beverage package
7:30pm – Seated for dinner in the Alpine room - entrée served followed by main course and then dessert
10pm – Beverage package concludes and band begins in Panorama room (cash bar available)
12am – Band concludes
Timing is indicative only and subject to change.
Masquerade in the Alps is presented by Fortis Events and ESP Ventures.
For bookings and further information https://fortisevents.co.nz/Masquerade-in-the-Alps or email team@fortisevents.co.nz Tel: 09 979 5080
Please note: If this event is unable to go ahead in March 2022 due to Covid-19 government restrictions, it will be postponed until later in 2022. If you are unable to make the new date, we will arrange a full refund for the event package.
Getting there
The Hermitage, Aoraki/Mount Cook is approximately a 4 hour drive from Christchurch or a 3 hour drive from Queenstown.
Due to the travel involved in getting to the hotel's location, if you are flying into one of these cities and then driving to Aoraki/Mount Cook, we recommend you also book to stay on Friday evening as well.
Request an extra night rate at the time of booking.
What to do in Aoraki/Mount Cook
There are lots of great activities to experience in this beautiful part of New Zealand.
Hike the Hooker Valley Track
The 10km (3hr) return Hooker Valley Track is the most popular short walking track within the Aoraki Mount Cook National Park. Wind up the Hooker Valley past alpine streams and glaciers on this well-formed track suitable for all ages and abilities. The track starts at the White Horse Hill Campground and car park at the end of Hooker Valley Road, approximately 2km from Mt Cook Village.
Sir Edmund Hillary Alpine Centre
Discover the history of this iconic region. A tribute to Sir Edmund Hillary, humanitarian, ambassador and one of the world's greatest explorers, the centre showcases the Aoraki Mount Cook region, its people and its place in the universe. The Centre's main feature is its theatre which shows 2D and 3D films as well as serving as an operational planetarium.
Scenic Heli Flights
See this magical part of the country on one of The Helicopter Line's Scenic Heli Flights. Options start from a 20min flight through the rugged high-country landscape of the Ben Ohau Mountain Range with a possible snow landing; to a 55min flight taking in Tasman Glacier, Aoraki Mt Cook, the rugged Southern Alps, Franz and Fox Glaciers, and a snow landing.
Tasman Glacier Heli Hike
Experience the beauty and stunning ice formations of the Tasman Glacier Lake as you fly over the spectacular surroundings. Descend and step foot onto the ice for a unique walk on New Zealand's longest glacier, an experience which will not be forgotten.
Glacier Explorers
A spectacular experience, as you explore the glaciers of the Tasman Lake by boat.
Imagine a boat tour like none other. Surrounded by snow capped alps, you will be expertly guided through the ice age as you view the gigantic Tasman Glacier Ice wall, icebergs and the chance to embrace mother nature's legacy.
Tasman Valley 4WD Tours
Explore stunning scenery in an overland adventure as you are expertly driven through the Tasman Valley and into the heart of the Mount Cook National Park.
Bookings for the Heli Hike and Scenic flights can be arranged through Fortis Events at time of booking.